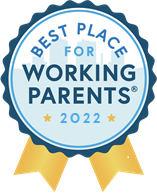 NORWAY, Maine –Norway Savings Bank recently earned the 2022 Best Place for Working Parents designation.
The Best Place for Working Parents designation recognizes organizations for their commitment to supporting working parents through their family-friendly policies and practices including; company-paid health care coverage, paid time-off, parental leave, nursing benefits, childcare assistance, flexible hours, and working remotely.
"Since the start of the pandemic, we have equipped over 52% of our employees to work from home. Many of these employees continue to work remotely 100% of the time while others have more of a hybrid arrangement, working both from home and in the office based on their needs and the needs of their families," states Richelle Wallace, EVP, Senior Resources Officer. "Health, wellness, work-life balance, and flexibility are important, and we continuously invest in these priorities."
"I'm particularly proud of this award. Working parents make up such a large percentage of our work force and we want to ensure they have the support they need to care for their families while enjoying a rewarding career," said Dan Walsh, President & CEO.
About Norway Savings Bank
Founded in 1866, Norway Savings Bank is a leading mutual banking and financial services company headquartered in Norway, Maine. As of March 31, 2022, Norway Savings Bank had $1.753 billion in total assets. Norway Savings Bank has 24 branch locations and operates divisions in trust and investment services, personal banking and business banking. In 2016, Norway Savings Bank was honored as one of the Best Banks to Work For by American Banker and Best Companies Group as well as one of the Best Places to Work in Maine. In 2022, Norway Savings received the Best Place for Working Parents designation and was recognized with the "Best Wellness Employer – Gold Certification" for the fourth year in a row by Wellness Workdays. BauerFinancial has designated Norway Savings Bank the "Best of Bauer" for earning and maintaining its highest 5-star rating for 32 continuous years. For more information, visit www.norwaysavings.bank.
###