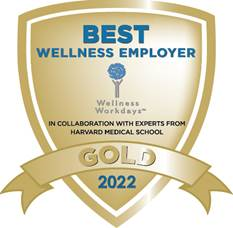 NORWAY, Maine – Norway Savings Bank has, for the fourth year in a row, been recognized as a "Best Wellness Employer." Wellness Workdays, a leading provider of corporate wellness programs, in collaboration with experts from the Harvard Medical School, bestowed the prestigious honor.
The designation includes gold certification, the highest level achievable, and recognizes businesses and organizations committed to creating best-in-class corporate wellness programs that promote a culture of wellbeing.
"It's truly an honor to be recognized for our wellness efforts alongside well-known and diverse organizations such as New Balance, the City of Portland and Putnam Investments," said Richelle Wallace, EVP, Senior Resources Officer. "We make significant investments in wellness, our employees have embraced meaningful life changes, and we have seen tremendous results. We are proud of our continued wellness efforts and thrilled to have received this designation."
"Providing our employees with resources and tools to enhance wellness is a priority for Norway Savings Bank," said Dan Walsh, President and CEO of Norway Savings Bank. "I'm proud of the Award from Wellness Workdays, but the real reward is to see the positive impact that our wellness initiative continues to have on the health of our employees and their families."
The Best Wellness Employer recipients recognize their wellness initiatives as a part of an overall corporate plan for a productive, top-performing workforce.
About Norway Savings Bank
Founded in 1866, Norway Savings Bank is a leading mutual banking and financial services company headquartered in Norway, Maine. As of March 31, 2022, Norway Savings Bank had $1.753 billion in total assets. Norway Savings Bank has 24 branch locations and operates divisions in trust and investment services, personal banking and business banking. In 2016, Norway Savings Bank was honored as one of the Best Banks to Work For by American Banker and Best Companies Group as well as one of the Best Places to Work in Maine. In 2022, Norway Savings received the Best Place for Working Parents designation and was recognized with the "Best Wellness Employer – Gold Certification" for the fourth year in a row by Wellness Workdays. BauerFinancial has designated Norway Savings Bank the "Best of Bauer" for earning and maintaining its highest 5-star rating for 32 continuous years. For more information, visit www.norwaysavings.bank.
###