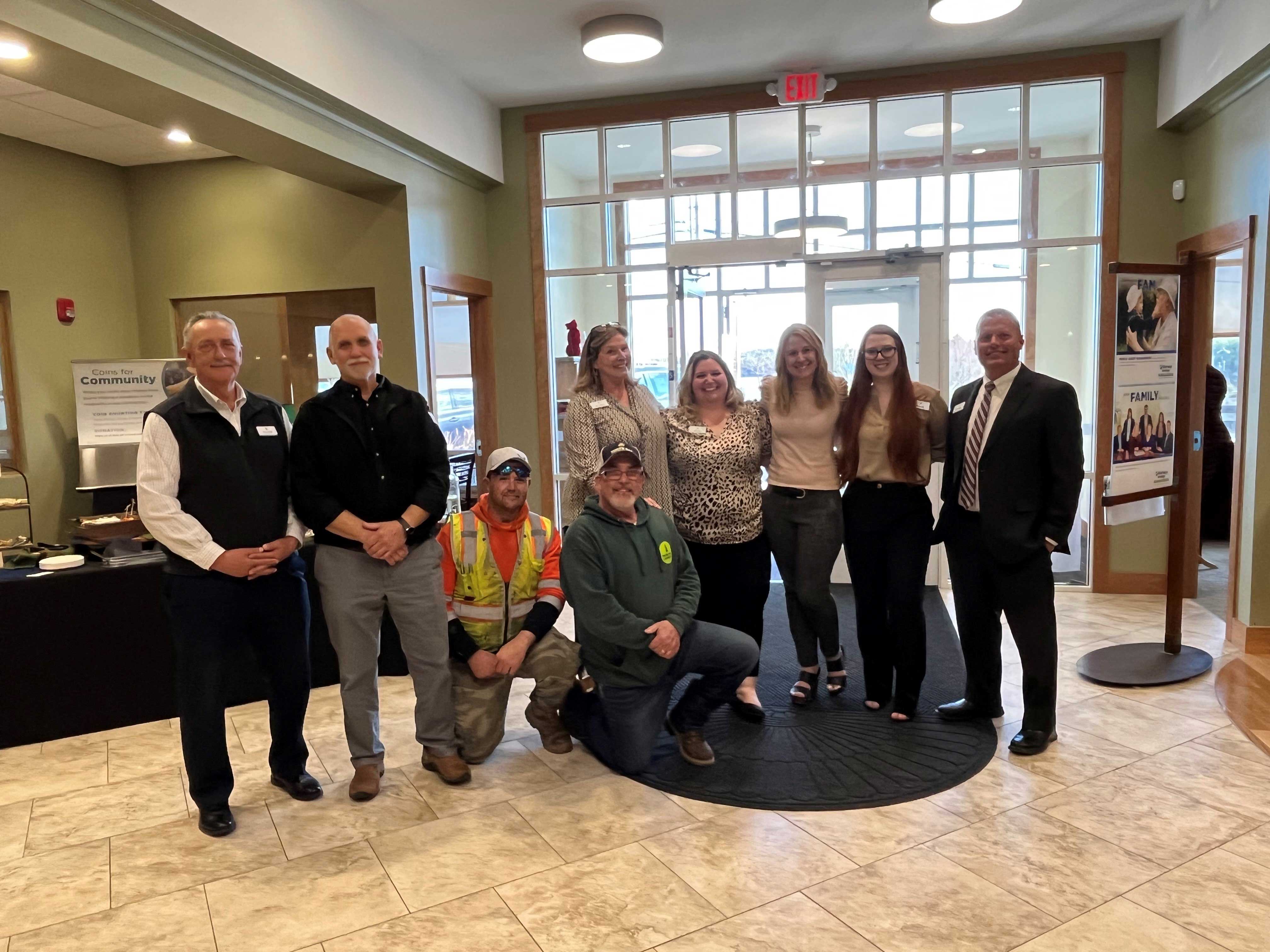 NAPLES, Maine –Norway Savings Bank is pleased to announce its Naples Branch has a whole new look – on the inside and outside.  With a redesigned interior layout, a beautiful new exterior paint color, the replacement of the teller line with stand-alone service bars and several upgrades for energy efficiency, the Naples branch provides an improved customer experience and reduces its environmental footprint. In addition, a new coin counter was installed and all associated fees will be donated to local charities through the "Coins for Community" program.
"We are very pleased with the new look and functionality of the branch," said President and CEO, Dan Walsh. "Since the completion of the project in early-April, customers have commented on the improved aesthetics and privacy when completing transactions."
"As a community bank, we take steps to make sure that our operations directly serve the residents in our local areas," said Mary Martell, Naples Branch Manager. "Every time someone uses the new coin counting machine, the fee is donated to the 'Coins for Community' program.  When the balance is $500, we donate the money to a worthy local nonprofit."
"The bank made conscious decisions to improve the energy efficiency of the branch," said AVP and Facilities Manager, Kerry Millett.  "A big part of the renovation was the HVAC upgrade to the most efficient system available. In addition, we removed the attic insulation and replaced it with a much higher-efficiency product."
"With the new open layout, the Naples branch is a perfect location for customer appreciation days and other types of events," said Martell.  "For example, on April 27th, we hosted the Greater Bridgton Chamber of Commerce After Hours event.  Attendees – especially those who were familiar with the old branch design – were very positive."
The Naples branch is open 8:30am-4pm Monday-Thursday, 8:30-5pm on Fridays and 8:30am-12pm Saturdays.
Caption left to right: Kerry Millett, AVP and Facilities Manager, Norway Savings Bank; Brian Sevit, Owner, Portland Safe; Adam Herrick, Bancroft Contracting; Tom Norton, Bancroft Contracting; Mary Martell, Naples Branch Manager, Norway Savings Bank; Elizabeth Gemme, Personal Banker, Norway Savings Bank; Jennifer Damon, Naples Assistant Branch Manager; Savannah Jewell, Customer Relations Representative, Norway Savings Bank; Brian Siebert, AVP and Commercial Loan Officer, Norway Savings Bank.
About Norway Savings Bank
Founded in 1866, Norway Savings Bank is a leading mutual banking and financial services company headquartered in Norway, Maine. As of March 31, 2023, Norway Savings Bank had $1.831 billion in total assets. Norway Savings Bank has 24 branch locations and operates divisions in trust and investment services, personal banking and business banking. In 2022, Norway Savings received the Best Place for Working Parents designation and was recognized with the "Best Wellness Employer – Gold Certification" for the fourth year in a row by Wellness Workdays. BauerFinancial has designated Norway Savings Bank the "Best of Bauer" for earning and maintaining its highest 5-star rating for 33 continuous years. For more information, visit www.norwaysavings.bank.
###