To Our Valued Customers,
I hope you are all staying healthy and well as the coronavirus pandemic continues to impact all of us in Maine and across the world. I am writing to you today to share updated information and news from all of us at Norway Savings Bank.
Economic Impact Payments – AKA Stimulus Checks/payments arriving soon
We know many families and individuals are anxiously waiting to receive the federal relief payments that should start arriving this week. If you are wondering if you qualify to receive a payment and how you will receive the payment, we have compiled helpful information here. If you have questions, please contact our Customer Care Center team and they will assist you. 1.888.725.2207, M-F 8 am to 6 pm; Sat 8am to 12pm.
Wondering what to do during this time of extreme market stress?
The stock market has certainly created anxiety for folks who are watching their investments and wondering how long this environment will last. We know that March was an incredibly difficult month for all of us, and we want you to know that we are here for you. The Norway Savings Asset Management Group team has been here, making and answering calls to clients and they are happy to talk with all of you during this turbulent time. If you would like to speak to a member of the AMG, please give them a call – 207-482-7920.
Behind the scenes at NSB
Friday, April 3rd was an incredibly busy day at the bank across several fronts. As I'm sure you've heard on the news, the federal government launched the SBA Paycheck Protection Program as a way to assist small businesses and provide a means to keep their employees on the payroll. Loan details were released last Thursday evening and our automated application site was up and running by Friday afternoon. Loan officers hit the ground running as applications began flowing in fast and furiously. All of us recognize the importance of this program, and we are doing our very best to process the extraordinarily high volume of loans in a timely manner.
Also notable on Friday, April 3rd were the large crowds in our drive-up lanes, the likes of which we haven't seen in many years, perhaps since before the government initiated social security direct deposits. Of course this was all a result of our continued branch lobby closures, and we sincerely apologize if you were impacted by the long waits.
Although the long lines represented an inconvenience for many, for at least one customer, the trip to the bank was an opportunity to converse with his banker. He shared, "I really don't mind the wait. I haven't talked to anybody in a week, and I'm just happy to have a conversation with someone". I am sure many others feel isolated as well, and our hearts go out to all of you. We want you to know we miss seeing you in our branch lobbies.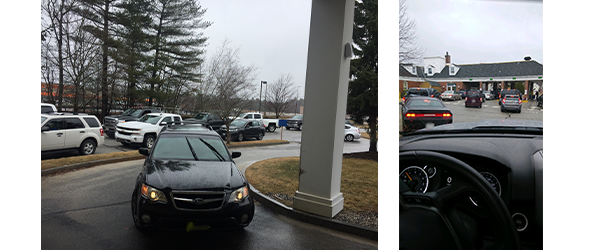 Governor Mills extends Stay-at-home Order through April 30th
As you likely know, the Stay-at-home Order effective April 2nd has been extended, mandating nonessential businesses to remain closed through April 30th. While banks are identified as "Essential Businesses" under Governor Mills' Executive Order, we are trying to balance the safety of our employees and customers by limiting the number of branches we have open during this time. We recognize the inconvenience these branch closings have caused – including longer lines at the beginning of the month – and we also have heard from customers who must travel a few extra miles. We want you to know we listened!
Effective Monday, April 13, 2020 we are reopening the Cooks Corner – Brunswick, Gorham and Kennebunk branches with limited hours and Drive-up Banking service only – and we are also adjusting hours in other branch locations.
We recognize these continued closures may be an inconvenience to you, our customers, but we believe these temporary closings are one step we can take to help our State recover more quickly from the virus impact. Working together now, we can do our part to "flatten the curve" to prevent future catastrophic demands on our local health care systems.
Announcing COVID-19 Support Center
In closing, with all of the emails we have been sending to you these past few weeks, we compiled, categorized and archived all of the details and information, and it is now provided on the bank's website: www.norwaysavings.bank. You will see a yellow banner at the top of every page that links to the COVID-19 Support Center. We hope you check it often for updates and helpful ways to do your banking.
Please keep in touch with us and let us know how we can help you through this time. I hope you and your loved ones are doing well – and stay safe and healthy. Thank you for your continued patience and understanding, but most of all, thank you for banking with us.
Patricia Weigel
President & CEO